Bisynchrospire Compact, Compact & Reversible, Auto directionnal, XL
The ideal tillage implement for all conditions including even the most difficult ones.
Featuring ease of operation, adherence and saving of time.
Used at the front of the tractor, the BISYNCHROSPIRE is the ideal implement for cultivating and seeding all in one pass.
Utilisé à l'arrière du tracteur, il devient un vibroculteur rapide et efficace.
Available in 4 versions: Auto Directional, Compact & No Reversible, Compact & Reversible and XL, it is suitable for any agricultural region and provides quality operation in all conditions.
The BISYNCHROSPIRE can be fitted with 45 x 12 straight tines or with 70 x 12 HERKULES tines, on the XL version with the choice of 6 or 9 tines per metre. When combined with the SYNCHROSPIRE, it enables clods of earth to be broken up and the levelling of the soil whilst being pressed together again in depth. The seedbed is thus ideally structured.
The BISYNCHROSPIRE enables the capabilities of the tractor to be used to the maximum, giving it the best possible grip and theuse of its front-end linkage attachment.
Well-balanced and manoeuvrable, the package when combined with seeders, offers the highest level of convenience.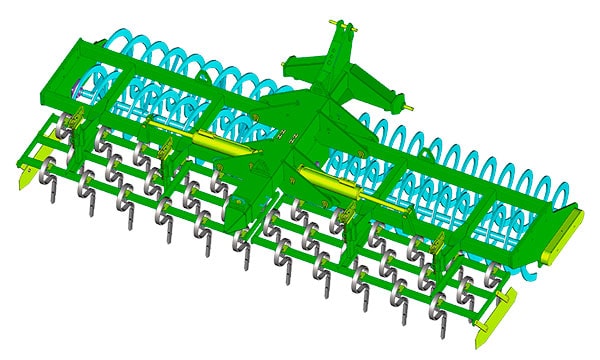 Compact fixed et no reversible
Bisynchrospire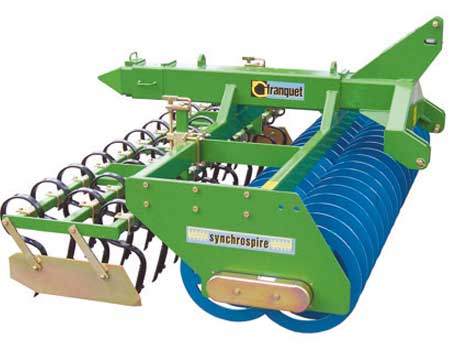 Compact and Reversible fixed and folding
Bisynchrospire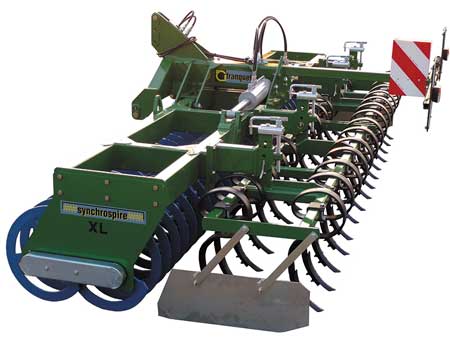 Fixed and folding  XL Bisynchrospire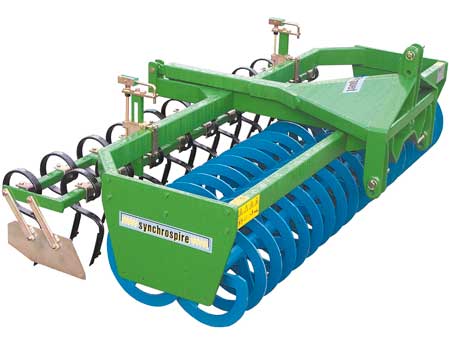 Autodirectionnal fixed and/or reversible
Bisynchrospire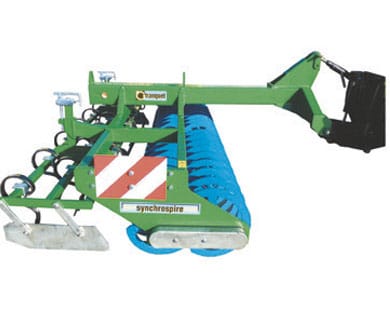 The reversible pitch enables changing the front -mounted version to a pull-behind version to be carried out quickly and rapidly.
Immediately after the cultivation is carried out by the vibrocultivator, the synchronous, self-cleaning spires crumble, level and press the soil together again in depth.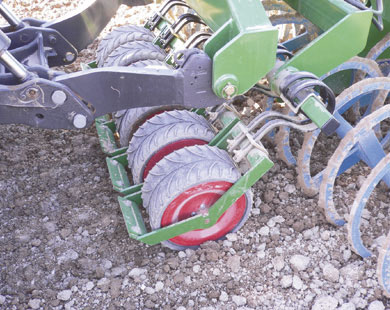 Consisting of 6 wheels of 370 mm in diameter, mounted on springs, the ROUL'FLEX fits in between the wheels of the tractor. It works at a width of 1 m 30.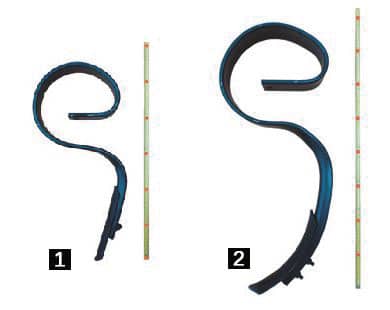 1. The 45 x 12 straight tines are very aggressive and treat soil clods vigorously without bringing up fresh earth.
2. Only in the XL version, the 70 x 12 HERKULES tines are specially designed to work in difficult soil conditions. Their high clearance and strength make them highly aggressive in penetration.
Bisynchrospire AD, Compact, compact and réversible, XL Technical data sheet
BISYNCHROSPIRE Compact & Réversible
Fixed
Folding
Working width (m)
3 m
3,5 m
4 m
2 x 1,5 m
2 x 2 m
2 x 2,5 m
2 x 3 m
Transport width (m)
3,15 m
3,5 m
4,3 m
2,3 m
2,3 m
2,3 m
2,3 m
Transport height (m)
Implement height : 1,30 m
1,65 m
2,15 m
2,65 m
3,15 m
Weight (standard equipment) kg
1 045 kg
1 150 kg
1 320 kg
1 415kg
1 660 kg
1920 kg
2 200 kg
Supporting framework
Fixed or hydraulically folding, rectangular tubing of 120 x 60 x 5
Central sliding reversibility beam
Square tubing of 200 x 8
Vibrocultor frame
3 bars, 50 mm sure tubing, at spacing of 250 mm
Type of tines
45 x 12 straight tines, 70 x 12 Herkules (XL)
Row spacing (cm)
42 cm width 6 tines/m or 29 cm width 9 tines/m
Spacing between tines (cm) when working
17 cm width 6 tines/m or 11 cm width 9 tines/m
Ground clearance beneath frame (cm)
40 cm
Spires
2 synchronous spires, interlinked with each other
Spires profile
Ø 500 mm, 60 x 12, step of 160
Ø 500 mm, 30 x 20, step of 160
Ø 500 mm, HP 60 x 12, step of 160
Number of hydraulic valves
0
1
Power requirement (hp)
20 to 30 hp/m
Eclairage / signalisation
yes
Options
30 mm spire extension
For more spiral springing outside of and in between the tractor wheels
Bolt-on spires
oui
Roul'flex
6 x 370 mm diameter wheels, spring-mounted with working width of 1,3 m
Clic Clac system
yes
Synchromix kit and extension
yes