Synchroflex
The choice of tines or of discs complemented by the blade-type roller means versatility in all conditions.
When in front of the tractor, the SYNCHROFLEX is highly versatile: cultivating and breaking-up of nitrate, etc. and once it is reversed, it becomes a fast working cultivator with significant surface spreading. It can be equipped with tines or discs.
Mounted in 3 rows the 45 x 12 straight tines break up and crumble all your soil preparations both in spring and autumn. By opting for the 410 mm diameter discs frame, you optimise your planting activities.
The design of the blade roller gives the best possible levelling as well as a maximum bearing down of the implement even in wet conditions and when there are significant numbers of stones.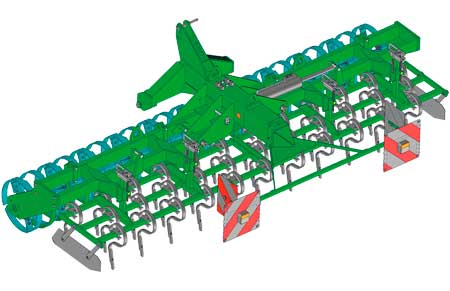 Cambridge roller Synchroflex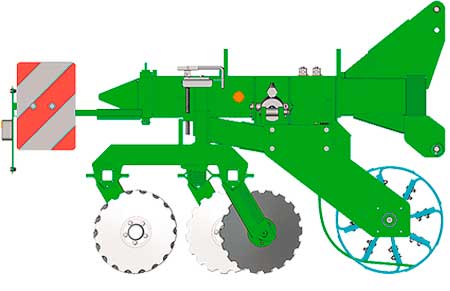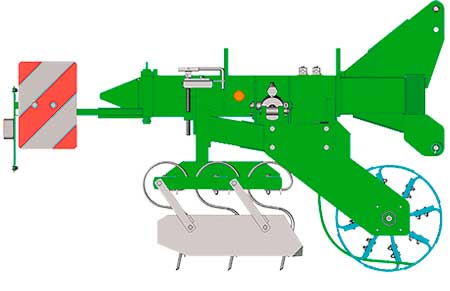 Tines 2 x 2 m Synchroflex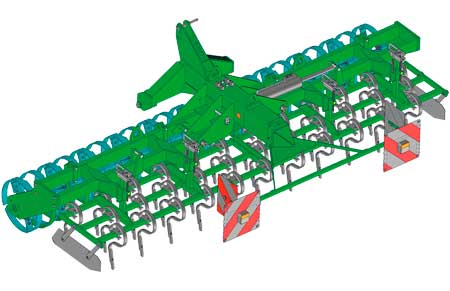 Synchroflex Technical data sheet
Synchroflex
Fixed
Folding
Working width (m)
3 m
3,5 m
4 m
2 x 1,5 m
2 x 2 m
2 x 2,5 m
2 x 3 m
With tines
Transport width / height (m)
3,1 m / Implement
3,5 m / Implement
4,1 m / Implement
2,3 m / 1,6 m
3 m / 2,1 m
2,3 / 3,1 m
2,3 m / 3,1 m
Weight (kg) 6 tines or 9 tines
745 to 790
815 to 860
940 to 1 000
1 080 to 1 125
1 240 to 1 300
1 380 to 1 455
1 600 to 1 690
Vibrocultivator frame
3 bars, 50 mm² tube, spaced at 250 mm, under-frame ground clearance 40 cm
Interval on the row (centimetres)
42 cm at 6 tines/m or 29 cm at 9 tines/m, 45 x 12 straight tines
With discs
Transport width / height (m)
3,35 m / Implement
3,5 m / Implement
4,35 m / Implement
2,3 m / 1,69 m
2,3 m / 2,19 m
2,3 m / 2,49 m
2,3 m / 2,99 m
Weight (kg) 6 tines or 9 tines
1 250
1 320
1 540
1 600
1 850
2 205
2 590
Notched discs, Ø 410 mm
24
28
32
24
32
40
48
Supporting frame
Fixed or hydraulically folding, 120 x 60 x 5 rectangular tube
Roller
Blade roller , 500 mm in diameter, blade length: 60 mm, 4 blades/circle
Other roller
U roller, Cambridge roller, Simple Spire, fers plats roller, Croskill Ø 500 mm
Number of hydraulic valves
0
1
Power requirement (hp/m)
upwards from 25 hp/m
with front mounting 4 m 150 hp
Lighting / signalling devices
yes