Synchromix Compact, Compact and Réversible, Auto directionnal, XL
The top performer in surface stubble ploughing.
Ideal in TCS and in conventional operation. Reversible, Productive and Value-for-Money.
The double row of SYNCHROMIX-type notched discs of 410 mm in diameter mounted on a doubled sealed hub makes the SYNCHROMIX unit highly aggressive against plant debris, wheat and maize stubble, sunflower stalks, oilseed rape stalks, potato haulms and fallow land.
Each disc is mounted on a flexible rubber suspension of 70° shore hardness, which enables any unevenness in the ground to be absorbed, even at high speed.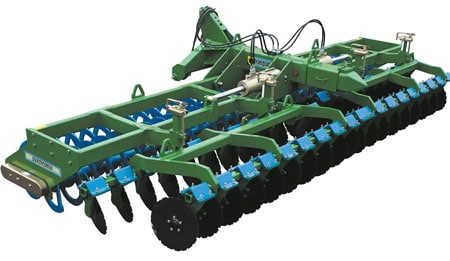 The simple and precise adjustment of the SYNCHROMIX equipment is achieved via the double SYNCHROSPIRE roller. This gives the implement its stability, avoids any rebound and finishes off the work of the discs in chopping up the plants and burying them, whilst creating fine surface tilth. It levels the soil whilst at the same time pressing it together in depth in a uniform manner to provide the moisture ascent by capillarity. The removal of the false plantings and the decomposition is then more rapid.
The arrangement of the two opposed rows of discs avoids drifting (see diagram above). The centre section is operated via an inclinedopposing double disc. Patented system.
The sliding beam inside the frame enables changing over in just a few minutes from a pushing configuration to a trailed one.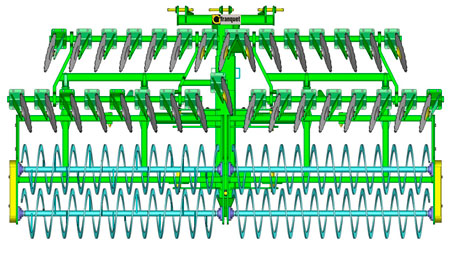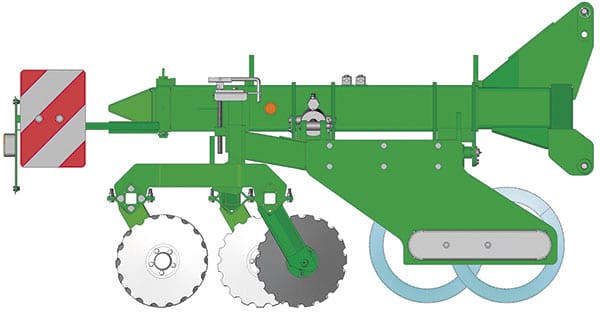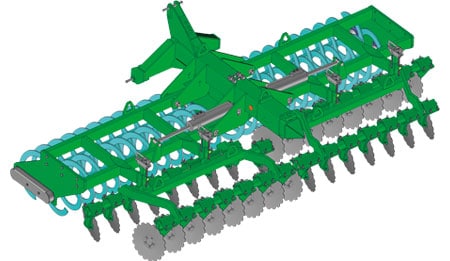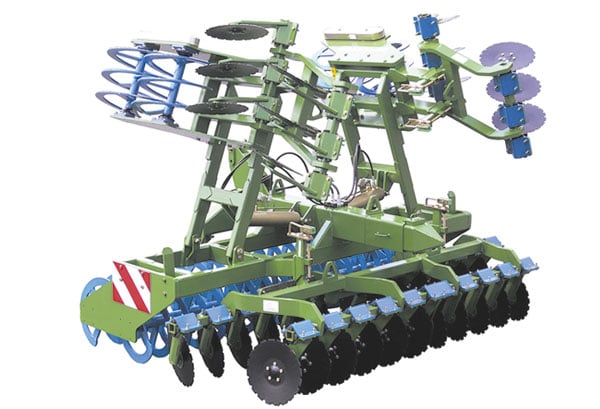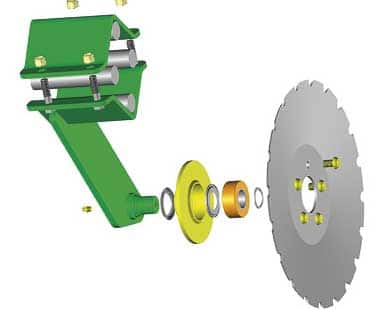 Each unit is based on a simple, sturdy design. Discs mounted on rubber suspension with 70° shore.Hardness wheels of generous width to withstand radial and axial forces. Single lubrication when being stored to eliminate moisture.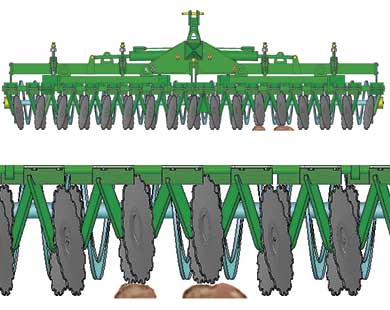 The SYNCHROMIX units absorb ground irregularities even at high speed
The double centre distance enables the passing of a configuration where the spires are close to a configuration of spaced-out spires.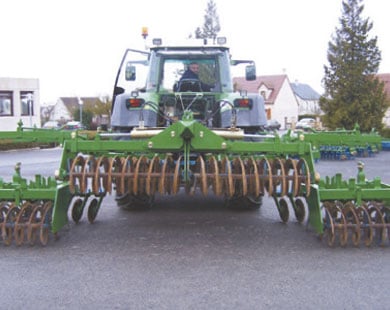 The CLIC CLAC system enables rapid changing from one configuration to another. Widen the scope of your versatility with this implement.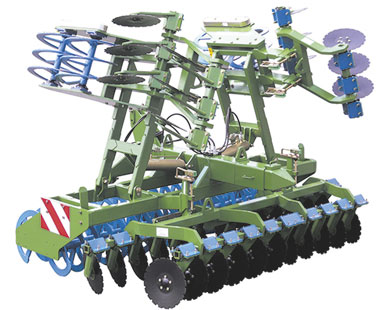 Extensions with the hydraulically controlled folding SYNCHROMIX system as above 3m/4m.
Synchromix AD, Compact, compact and reversible, XL data sheet
SYNCHROMIX
Fixed
Folding
Working width (m)
3 m
4 m
2 x 1,5 m
2 x 2 m
2 x 2,5 m
2 x 3 m
Transport width (m)
3,36 m
4,35 m
2,3 m
2,3 m
2,3 m
2,3 m
Transport height (m)
1,3 m
1,69 m
2,19 m
2,49 m
2,59 m
Weight (standard equipment) kg
1 600 kg
1 890 kg
1 925 kg
2 270 kg
2 670 kg
3 070 kg
Frame
Rectangular tube 120 x 60 x 5
Beam with sliding central section
Square tube 200 x 8
Type of discs
Notched discs, 410 mm diameter
Number of discs
24
32
24
32
40
48
Bearing sizes (mm)
50 mm
50 mm
50 mm
50 mm
50 mm
50 mm
Profiles of available spires
60 x 12 step of 160 / 30 x 20 step of 160 / HP 60 x 12 step of 160
Number of hydraulic valves
0
1
Power requirement
upwards from 30 hp/m
width front mounting 4 m 150 hp
Lighting / signalling devices
Yes
OPTIONS
Trailed assembly
With or without hydraulic brakes, nitrogen ball, front/rear reversible
Roul'flex
6 x 370 mm diameter spring-mounted wheels, working width of 1,3 m
Vibrocultivator kit end extension
3 rows of straight 45 x 12 tines