Croskillettes frame
The independent tool for breaking-up, levelling & re-consolidating all types of work.
Handy & adaptable to all implements, it is economic in traction & servicing.
Whether the task is one of ploughing, cultivating, false planting or just soil preparation work, each one requires the soil to be levelled and re-consolidated. This calls for the mixing of organic matter with the earth, facilitating the crumbling of the soil whilst at the same time limiting its drying-out.
The CROSKILLETTES have been specially designed to offer you versatility and adaptability on all of the tools that you use. The independent frames mounted on pendulum-style units enable perfect following of ground contours. The folding system has been designed so that during operation the axle bears a uniform load over its entire width and on the 2 rows of croskillettes.
The Franquet CROSKILLETTE has two rows of 320 mm diameter, mounted in a staggered configuration in order to work over the whole surface in a uniform
manner. The pointed profile of the tines enables the optimum crumbling of earth clods and a cupping of the mid-zone that is in contact with the grain.
The drawbar is adjustable in height and in length in order to enable it to be attached to all types of implements.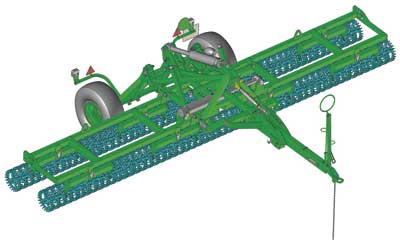 Croskillettes with a axle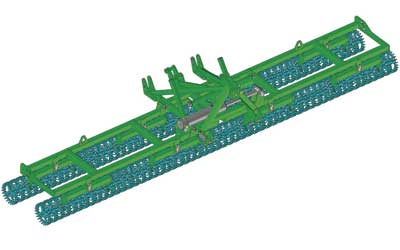 Croskillettes without axial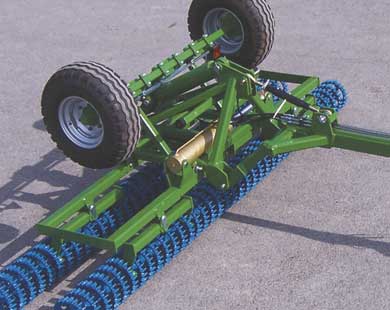 In order to ensure that these are perfect quality implements, the axle has a uniform load-sharing on the 2 frames of the croskillettes.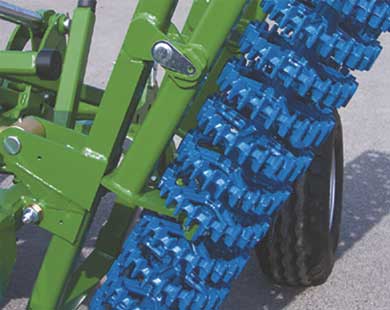 With their simple but ingenious design, the pendulum-style tools ensure optimum following of the ground contours.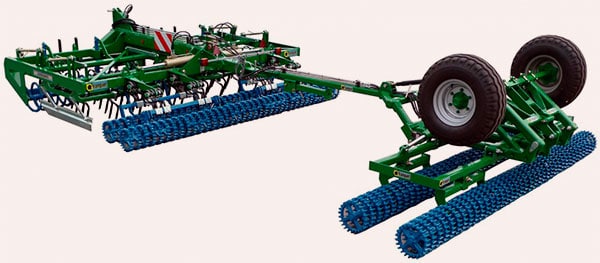 The CROSKILLETTES used with a COMBIGERM, provide an adequate working combination in soils that need to be re-consolidated.
Versatile, they can be adapted for all of the implementsthat you use.
Croskillettes frame data sheet
CROSKILLETTES FRAME
Folding
Working width (m)
2 x 2 m
2 x 2,5 m
2 x 3 m
Transport width (m)
2,5 m
2,5 m
2,5 m
Length (m)
4,95 m
5,45 m
5,95 m
Transport height (m)
2,4 m
2,9 m
3,4 m
Weight (kg)
1 790 kg
2 090 kg
2 350 kg
Number of pendulum-mounted tools
8
Type of discs
GS casting 320 mm diameter
2 rows in staggered layout
Beam
Adjustment for height and telescopic
(2 positions in depth)
Tyres
11.5/80-15.3
Number of hydraulic valves
2 (folding and axle)
Power requirement
depending on tool and work
Lighting / signalling devices
yes