Vibromax
Specialist of the seed-bed preparation. The Vibromax combines simplicity of use and of maintenance.
The new Vibromax manufactured by Franquet reworked vibrocultivators' standards.
• Specialist in seed-bed preparation, the Vibromax completes the offer suggested by the other tools of the brand. Combining simplicity of use and maintenance, it's made for the ploughing in autumn and in spring, preparing a superficial seedbed, (0 to 20 cm).
The Vibromax is available in 3 m / 6 m / 9 m work width versions.
• For the standard, sensing wheels are available for width of 6 m and 9 m. The mechanically welded beam has been specially designed to be sturdy during the work and to make easier the trips thanks to a transport width of 3.10 m. It's fitted with 5 vibrating tines rows and can be fitted with straight tines (45 x 12 or 32 x 12), or semi-straight tines (32 x 10). The work depth vary from 0 to 20 cm. A rotating harrow (diameter : 400 mm) hold in place the work depth of the equipment and break-up the work.
• In option, the VIBROMAX may be fitted with a second row of rotating harrow, the diameter is lower than the first one : 310 mm. A comb harrow can finish the work.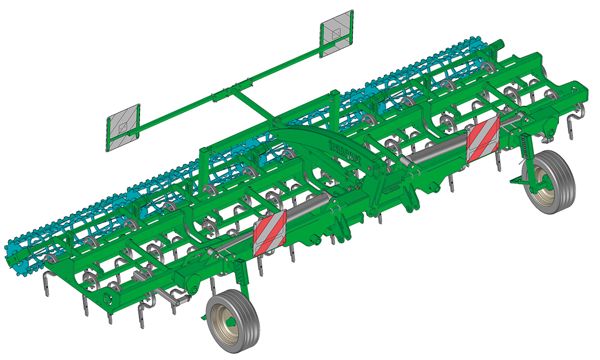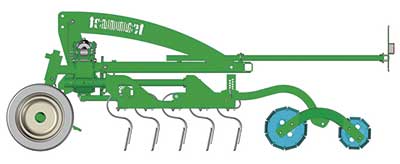 Double rotoherse Vibromax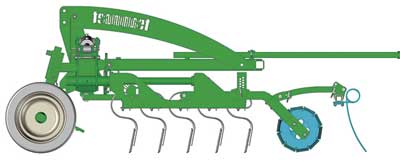 Rotoherse + comb Vibromax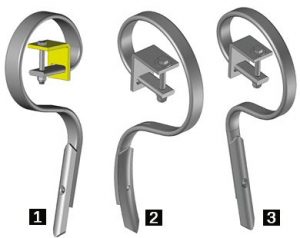 1. 45 x 12 tines – 2. 32 x 12 (2) semi-straight tines
3.  32 x 10 straight tines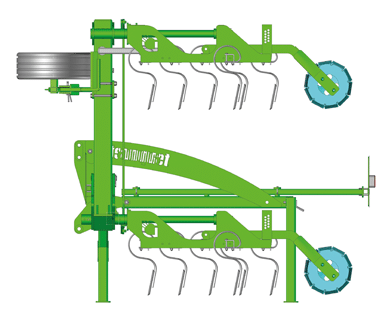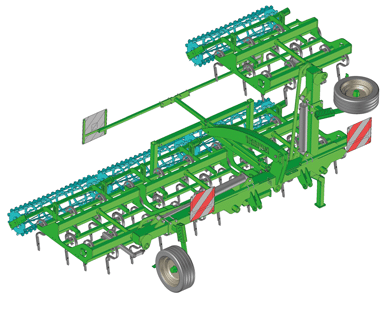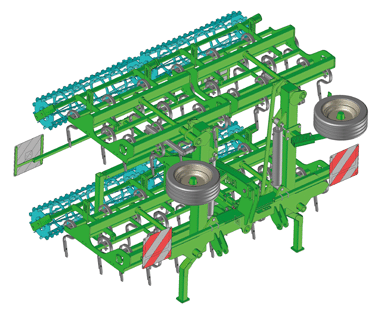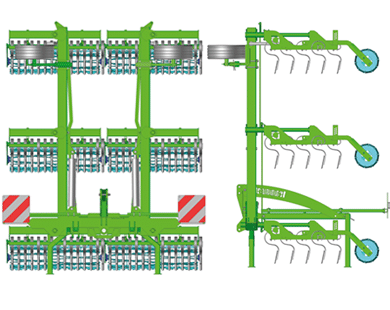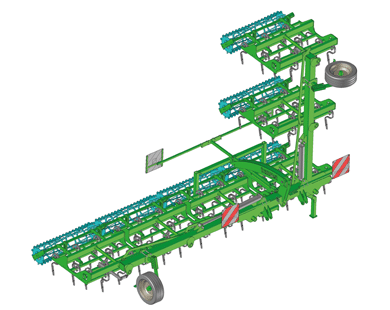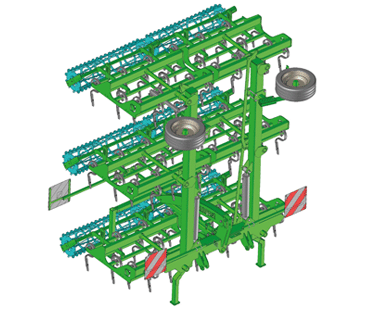 VIBROMAX
STANDARD
Working width (m)
3 m
6 m
9 m
Number of compartments (m)
2 x 1,5 m
4 x 1,5 m
6 x 1,5 m
Number of stages (folded tool)
1
2
3
Transport width (m)
3,1 m
3,1 m
3,1 m
Transport height (m)
1,3 m
2,35 m
3,7 m
Tines'profile available
Straight tines 45 x 12
Straight tines 32 x 12
Semi-straight tines 32 x 10
Number of tines/m
10 or 13 tines/m
Number of tines' rows
5 rows
Vibrocultivator's weight
1 rotative harrow Ø 400mm
+ 1 rotative harrow Ø 310mm
or 1 comb's row
800 kg
2 130 kg
2 910 kg
Sensing wheel
0
2 standards
2 standards
2nd rotative harrow's weight
150
300
450
Comb harrow's weight
90
180
270
Power requirement
20 to 30 hp/m
OPTIONS
Set of 2 sending wheels in addition
Type C 200/60 14,5 10PR V 61