Cultigerm
The Swiss Army Knife of the Franquet product range, ideal for use after straw chopping, modular design, suitable for each and any type of soil.
The CULTIGERM very soon becomes an indispensable tool for the cultivation work on your land.
Whether it be for repeat ploughing for seedbed preparation, for burying crop residues or even stumbled ploughing after straw chopping, it will be able to rapidly demonstrate its versatility to you.
The choice of « CROSSBAR or levelling » blades provides the possibility of adapting the tool with the latter replicating the action of the vibrocultivator. The work is carried out by four rows of HERKULES type tines (70 x 12) for opening and mixing the earth with plants and aerating the soil.
The levelling tube or the levelling tines share the work equally. Several rollers are available as per requirements. These produce an optimal re-consolidation, whilst evenly spreading out the earth. As an option, comb harrows can be added and these also reinvigorate the surface mulch.
In the trailed version, the CULTIGERM produces high-quality work.
Being a simple ergonomic and sturdy design, the supporting frame is suitable both for small acreages and for larger areas.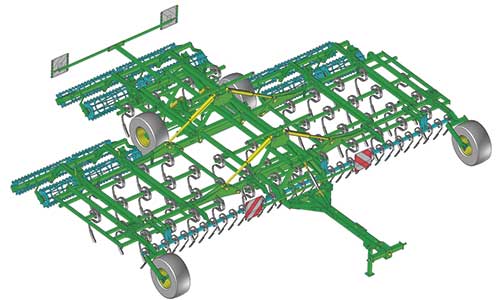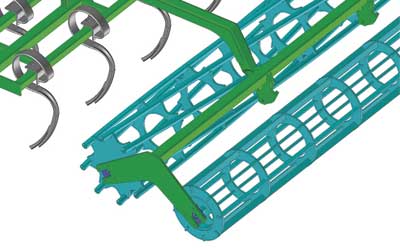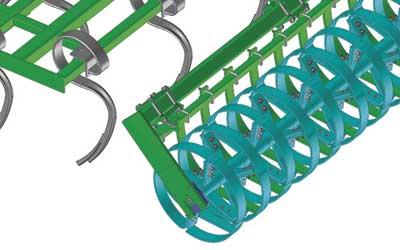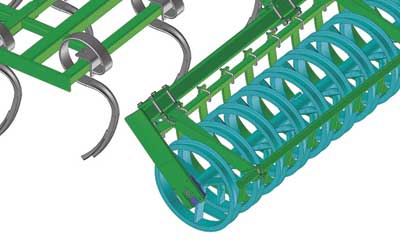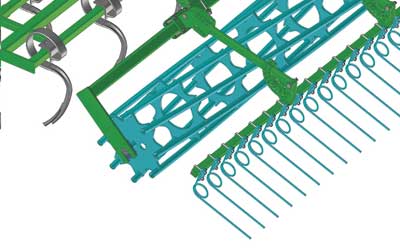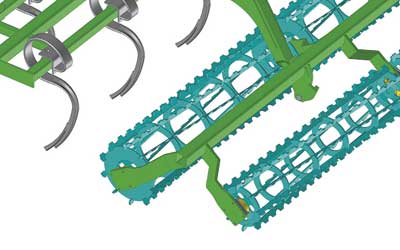 crantés roller Ø 400 and  310 mm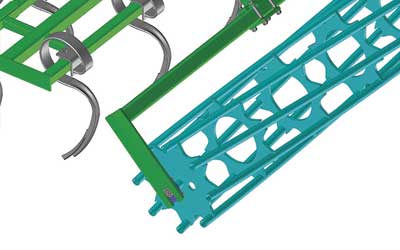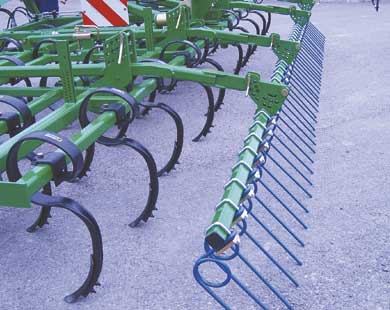 When simply fitted with a row of comb harrows, it becomes a cultivator for use in extreme conditions wet soils or in crops where there is a large amount of weed growth.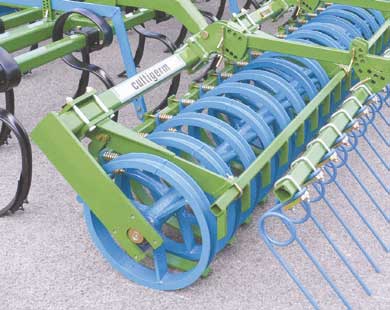 U roller : provides ideal re-pressing together in both dry and normal conditions. It is often complemented by a row of comb harrows to perfect surface mulching.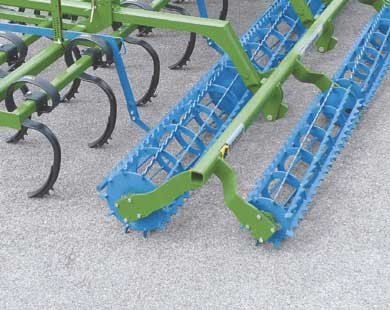 Unparalleled flexibility of use with double ridged rollers. The spirals produce a perfect mulching on the surface whilst leaving the soil pressed together again.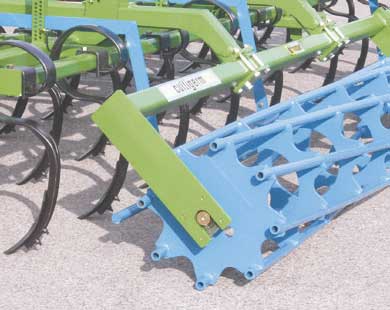 The 510 mm diameter bar roller effect needs no further demonstration. It stabilises the implement and settles the soil in depth.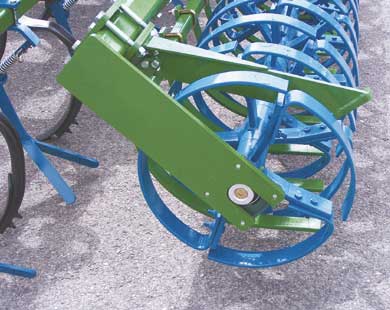 Effective blade roller in straw. The flexibility of the blades adapts itself efficiently to variations in the land, particularly when stones are present
Cultigerm Technical data sheet
CULTIGERM
Fixed
Folding
Working width (m)
3 m
2 x 2 m
2 x 2,5 m
2 x 3 m
2,5 + 3 + 2,5 = 8 m
Transport width (m)
3,15 m
2,5 m
2,5 m
2,5 m
3,15 m
Transport height (m)
1,3 m
2,2 m
2,7 m
3,2 m
3,8 m
Weight (vibro + lighting + tube nvlt + blade nvlt mech. + ridged roller) (kg
1 450 kg
2 125 kg
2 350 kg
2 600 kg
5 100 kg
Tyres (trailed version
-
-
11,5/80-15;3
Frame
80 x 80 x 8
Type of tines
HERKULES 70 x 12
Number of tines
20
26
32
38
53
Interval between tines (cm) and Spacing of the tines along the row (cm)
16 cm /60 cm
Front blade
Crossbar blade or mechanical blade
Number of tines Crossbar
12
16
20
24
32
Levelling tube
yes, 35 mm diameter
or Levelling tines
3 complete
and 2 half ones
4 complete
and 4 half ones
6 complete
and 4 half ones
8 complete
and 4 half ones
12 complete
and 4 half ones
Rollers
Ridged rollers: diameters 400 mm and 310 mm on bogie
Barred rollers 510 mm – U roller with scrapers / Bladed roller with scrapers
Without roller
2 sheet metal feeler wheels available (200/60 -14.5)
Comb Harrow
Available except on the model with ridged rollers
Number of hydraulic valves
1/2
1/2
1/2
1/2
2/3
Power requirement (hp)
100/120
120/140
140/160
160/180
180/240
Lighting / signalling devices
yes
OPTIONS
Wheel eradicator
yes
Trailed assembly
no
yes
Hydraulic control of levelling blade
yes
yes