Multichaum
Multiple depth cultivator for all type of soils and crops, offering. Strength and reliability.
On surface with winged coulters or in depth with a cracking up to 30 cm with straight coulters, the MULTICHAUM is a flexible implement that adapts itself to the conditions it comes up against.
Consisting of 3 rows of successive tines, it includes 4 «pig-tail» type tines per meter.
The large under-frame clearance enables comprehensive mixing and a major amount of spreading.
The equipment works effectively even if there is a large amount of plant growth and particularly on intermediate crops.
The levelling tines, available as an option, enable on the one hand the equalizing of the work performed and on the other hand make preparation for the rolling process.
The 510 mm bars roller performs a major re-consolidation action and constant levelling over the whole width. It encourages the organic decomposing and an optimal removal of the weeds.
A row of comb harrow can be added to obtain uniform work and to enable a perfect surface finish for the rolling process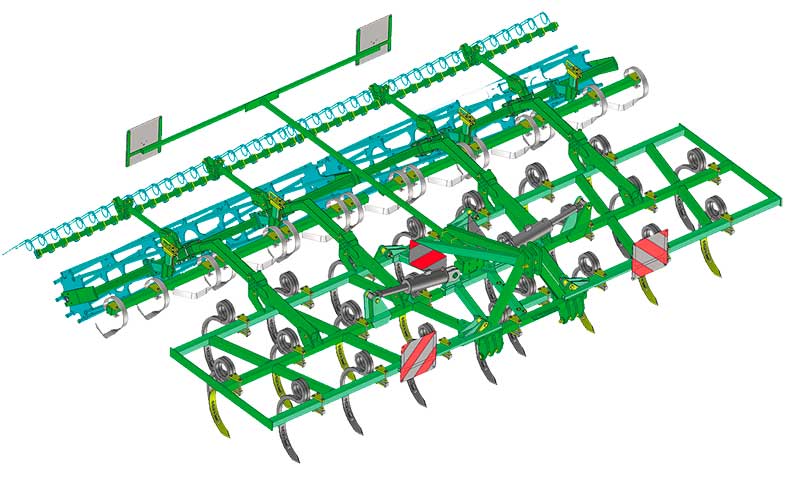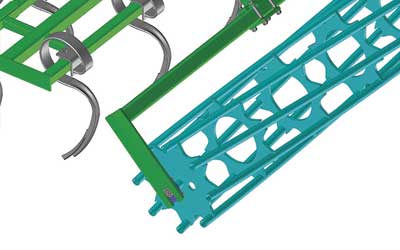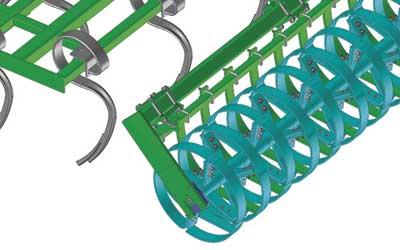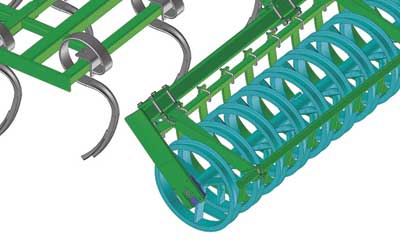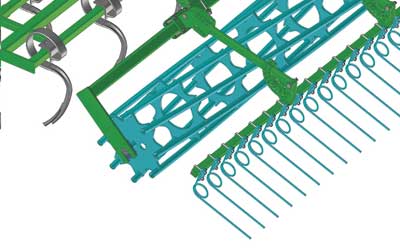 1. The square cultivator tine of 35 mm when used with an aggressive coulter enables easy penetration and cracking, even in dry conditions.
2. When supplemented by the wings, the coulters enable plant growth to be effectively chopped-up. The MULTICHAUM unit therefore becomes a deep cultivator combining strength and versatility.
The combination of the vibrocultivator, the levelling tines, the roller and the comb harrows is perfect and ensures a comprehensive expansion under all conditions.
Thanks to the large underframe ground clearance, the mixing work of the plant residues with the soil is highly effective. The solution for an aggressive and deep cultivating process.
Multichaum Technical data sheet
MULTICHAUM
Folding
Working width (m)
2 x 2 m
2 x 2,5 m
2 x 3 m
Transport width (m)
2,6 m
2,6 m
2,6 m
Transport height (m)
2,5 m
3 m
3,5 m
Weight (vibrocultivator only) kg
1 180 kg
1 310 kg
1 500 kg
Ground clearance under frame
700 mm
Type of tines
Square cultivator tines of 35 mm
Number of tines
15
19
23
Spacing between tines (on row) (cm)
75 cm
Spacing between tines (between rows) (cm)
70 cm
Interval between tines (cm)
25 cm
Levelling tines
Available (right and left tines)
Bars roller 510 mm in diameter
Available
Blade roller with scrapers
Available
Comb harrow row
Available
Number of hydraulic valves
1
Power requirement
30 to 50 hp/m
Lighting / signalling devices
yes